Top 5 Orlando Foodie Destinations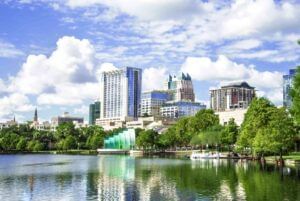 Big news hit Orlando when it was rated #2 of the best foodie cities in America.
The term "foodie" has been growing in popularity, but it isn't limited to gourmet dining and restaurant. A true foodie wants the experience of trying something new and discovering food. In a recent survey by WalletHub, they looked at 180 cities in the United States for 29 key factors and ranked each city. Find out below why Orlando ranked the second favorite including a few areas in Orlando where foodies can try new, adventurous, and fascinating food.
Orlando Foodie Destination #1: Winter Park
East End Market
Audubon Park Garden District
3201 Corrine Drive
Orlando, FL 32803
East End Market is a marketplace located in the Audubon Garden District of Orlando, Florida.
What's special about this market is this is where food entrepreneurs and chefs come to showcase their incredible food. The marketplace is two stories and contains local foods for breakfast, lunch, and dinner, perfectly crafted cheeses, organic juices, raw food specialties, local groceries, and shopping.
In East End Market, you'll find:
The Neighbors for craft cocktails and delightful chef-to-guest meals from its experimental kitchen. It also houses a store.
Winter Park Biscuit Company for vegan comfort food specializing in guilt-free sandwiches, burgers, and specialty items.
Dochi for a taste of the locally made famous mochi donut.
Domu for the freshest bowl of ramen with homemade noodles and exotic toppings.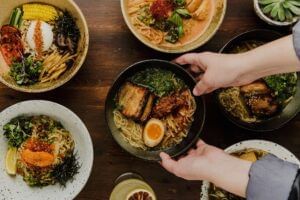 Farm & Haus for healthy breakfast and midday meal options featuring local and sustainable ingredients.
Gideons Bakehouse for that extra special sweet tooth desiring small-batch handmade cookies. This name may sound familiar because they have another location at Disney Springs.
Hinkley's Fancy Meats for when you need a sandwich or a meat charcuterie that's a little extra and fancy—think of fine American Southern cuisine mixed with French staples.
La Femme du Fromage for a cheesy culinary treat sure to delight every turophile. Their cheese charcuteries would make a great compliment to Hinkley's boards.
Olde Hearth Bread Company for a fresh loaf of artisan bread. Most are vegan and all baked daily, without preservatives or artificial flavors.
Skyebird Juice Bar & Experimental Kitchen for a vegan cold-pressed juice or smoothie. If you're hungry, then you'll enjoy the vegan all-day breakfast menu and plant-based meals.
#2 Orlando Foodie Destination: SoDo
SoDo
S. Orange Ave. & Grant St.
Orlando, FL 32806
SoDo (an acronym for South of Downtown Orlando) is a thriving local community full of residents and small businesses.
Experience world-class dining from award-winning restaurants, family restaurants, farmer's markets cafes, and wine bars. A few food places foodies should try are:
Mooyah's Burgers Fries & Shakes for crunchy sides and a tasty burger – whether it be never-frozen certified Angus beef, turkey, or black bean.
SoDo Sushi Bar & Grill for an interesting mix of Vietnamese and Japanese menu items, excellent for when you can't put your finger on which Asian cuisine you're in the mood for.
Tin & Taco for a new approach to street tacos, salads, bowls, and wraps with locally sourced ingredients.
Bao's Castle is built on the bao bun. If you're unfamiliar with this warm puffy bun and the amazing Asian-inspired sandwiches it can cradle, then check this place out.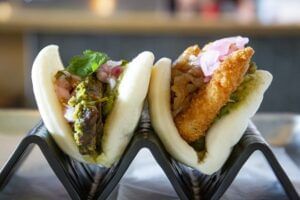 #3 Orlando Foodie Destination: Dr. Phillips
Dr. Phillips is known for its famous Restaurant Row on the busy street of Sand Lake Road.
If you want to experience fine dining, local restaurants, unique cuisine, or even a chic bar, Dr. Phillips is the place to be. Whatever you are craving, you can find it in this area. Some popular restaurants are:
Rocco's Tacos and Tequila Bar is the perfect place if you are in the mood for an authentic Mexican cuisine combined with an upbeat party scene.
Bosphorous Turkish Cuisine allows guests to step into the Turkey culture with their warm tones, paintings, and aromas of the Turkish culture. Experience the brilliant crafted Turkish food created by talented chefs and their team.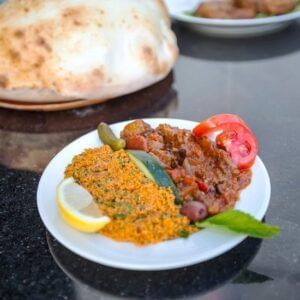 Saffron Indian Cuisine is for those that love Indian food with a modern twist. With every bite, your taste buds get that traditional taste with a unique flare.
Steak on Fire is a different take on a Brazilian steakhouse. Enjoy a mouthwatering steak on bread.
Dragonfly is for the sushi foodies out there. What makes them stand out is their fish are flown from Japan, so guests get that savory taste of authentic Japanese cuisine.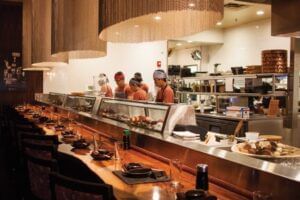 Seasons 52 is the healthy choice. All ingredients are 100% fresh and guests can enjoy their oak-fire grilled, or brick oven-roasted meals with a glass of 52 wines to choose from.
#4 Orlando Foodie Destination: College Park
College Park is a growing foodie scene located adjacent to downtown Orlando. Here are a few unique places to try out if you are in the area.
Shakers American Café is a little hole-in-the-wall place that has been voted best breakfast place in Orlando. Their homemade food options and freshest ingredients make them the best.
El Vic's for those who love Indian food, this is the place you want to try. Their dedication to using locally grown ingredients makes their food taste extra special.
Armando's takes on the Italian way of life, which is the love of cooking, wine, and celebrating loved ones. Armando is an Italian chef from Napoli and brought authentic cuisine to College Park.
#5 Orlando Foodie Destination: International Drive
International Drive not only has a lot of variety of entertainment, but it also has amazing food options.
As International Drive draws crowds from all over the world, restaurants have heeded the need to accommodate different global cuisines. (Need more lead into the types of restaurants.)
98Forty Tapas & Tequilas is a hidden gem located in the Rosen Centre Hotel where you can try premium tequilas and tasty Mexican bites.
Hidden Sushi for all-you-can-eat Brazilian sushi and other Japanese items with a Brazilian twist. Dessert is included!
Shogun Japanese Steakhouse is where guests can be entertained by the teppanyaki chefs as they show off their grill skills and enjoy authentic Japanese cuisine. Meals include sizzling steak, flavorful teriyaki, succulent shrimp and lobster, and vegetarian options.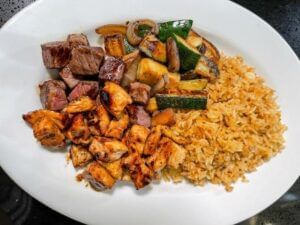 Pio Pio Restaurant for Columbian and Peruvian cuisine your abuelita would be proud to eat.
Jack's Place Restaurant serves the best steak, seafood, and cocktails in Orlando. Enjoy a savory meal as you are surrounded by celebrity caricatures.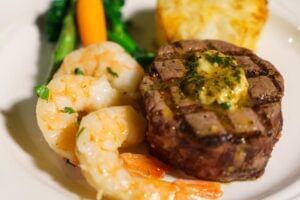 Enjoy a Convenient Stay in Orlando
The Rosen Inn International is in the heart of International Drive and is driving distance to the East End Market, Dr. Phillips, and College Park.
A short drive to your destination, deluxe accommodations, and family-fun amenities such as swimming pools, a playground, and an arcade await. Rest assured knowing we are dedicated to the highest standards of cleanliness and safety for the well-being of our guests and associates. Read all the details on our Rosen's Total Commitment page.
To book your room at Rosen Inn International, call 407-996-1600 today, or click "Check Room Availability" at the top of the page.