7 Picture Perfect Photo Spots in Orlando for Any Shutterbug
Orlando is known as the "City Beautiful" and with good reason.
Central Florida boasts countless backdrops for the perfect photo op, from the fireworks and light shows that dazzle parkgoers to the majestic Spanish moss that shades the region's stunning streams and springs.
Here are seven of the most inspiring photo spots in Orlando, with something to wow every type of shutterbug.
For the Nature Lover – Tibet-Butler Preserve
Tibet-Butler Preserve is located just minutes from Walt Disney World. But with the preserve's serene cypress swamps, lanky loblolly pines, and stately scrublands, you'll feel a world away.
Tibet-Butler features more than 3 miles of trails where you can point your lens at wildlife like gopher tortoises, river otters, cranes, and eagles. Signs throughout the preserve will teach you all about the animals that live there, helping you identify species so that you don't use a heron hashtag on a picture of an ibis.
Before you leave, be sure to check out the preserve's education center and butterfly garden. Admission to Tibet-Butler Preserve is free, and there is ample on-site parking.
For the #storytellingphotography – Wall Crawl
Downtown Orlando's Wall Crawl is an Instagrammer's paradise. It features 4,500 square feet of studio space, over 20 playful indoor murals, and professional lighting.
The space's brightly colored installations rotate every quarter. Each one features a backdrop painted by a local artist. Step into the set at most of these mini studios. Drape yourself over plush couches, or make a scene in front of retro televisions. There's even a massive clawfoot bathtub and tons of fun props.
The studio is kid-friendly, and on select days, is even open to dogs with the purchase of a "pup pass."
Unlike many full-service photo studios, guests are welcome to bring a photographer (or put their own selfie skills to work). Want to guarantee a perfect shot? You can also buy time with one of the venue's professional photogs.
For the Gearhead – Colonial Photo & Hobby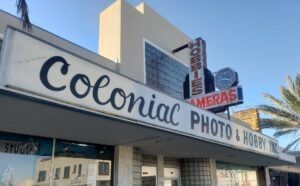 Adapted from photo by Keith C, CC BY-SA
2.0, via Flickr
Want to treat yourself to a new lens or tripod while on vacation? Head to Orlando's artsy Mills 50 neighborhood and visit Colonial Photo & Hobby.
The family-owned camera shop got its start in 1954 and has been in its current location — a repurposed midcentury Publix — since 1973. The 15,000-square-foot shop has a massive inventory of cameras and gear, both for sale and rent. If you get a perfect shot, this Orlando camera shop also does photo developing, printing, and framing. And if your camera needs to be repaired or cleaned, you can get that done here, too.
Before heading out to the other great photo spots in Orlando, test out your new merch on the shop's marquee sign and glass block walls. The vibe drips old-school cool.
For the Architecture Aficionado – Rollins College
Rollins College is the oldest college in Florida. With its Old Florida charm, the school often makes most beautiful campus rankings. Grab your camera and venture up to Winter Park, Florida, to see why.
The campus, located on the shores of Lake Virginia, is full of Spanish-Mediterranean architecture featuring limestone bricks, red clay roofs, and intricate stone trim. Take a walk on campus and get a glimpse of the campus' courtyards, gazebos, and balconies.
A few blocks away is Winter Park's popular Scenic Boat Tour. Enjoy long looks at some of the area's most incredible and famous lakefront homes.
The boat ride is $16 for adults and $8 for children, which you must pay in cash or by check.
For the Disney Devotee – The Purple Wall
When you think "classic Disney photo op," what comes to mind? Perhaps Cinderella's Castle or Spaceship Earth. But Disney fans in the know flock to an unassuming corridor between Tomorrowland Terrace and the Monsters, Inc. Laugh Floor to strike a pose in front of the Purple Wall.
What's the Purple Wall? Well, it's exactly what it sounds like: a wall with two purple backdrops. One is a solid, lovely lilac, the other a geometric mural in shades of lavender, cream, and violet. Both make perfect backgrounds for a selfie or fun group pic, with no risk of being upstaged by a majestic castle or yawning stranger. Thanks to the hashtags #PurpleWall and #DisneyWall, what was once a walkway is now one of the hottest photo spots in Orlando.
This photo spot in Orlando has become such a hit that Walt Disney World has even started selling Purple Wall merchandise.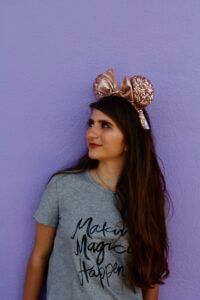 For the Scenery Buff – International Heli-Tours
There are so many amazing photo spots in Orlando that it's impossible to see them all in one day. Or is it?
International Heli-Tours offers daily trips, taking guests to new heights and showing them stunning views of their favorite Orlando attractions. Whether you want to catch a glimpse of celebrity mansions or see your favorite Orlando theme park in a brand-new way, they've got a tour that's perfect for you.
Tickets start at $35 and go up in price depending on your chosen tour's length.
While cameras and camcorders are welcome, keep in mind that selfie sticks are not allowed aboard the helicopter. International Heli-Tours also offers professional photo packages if you prefer to just take in the view.
Fuel Your Photog Adventures at your Orlando Hotel
Before snapping pictures at these great photo spots in Orlando, start your day off right with a filling breakfast. The Fountain View Café at Rosen Inn International has a bountiful breakfast buffet with something for everyone. Kids 5 and under eat free (one child per paying adult). While you're there, get some fun foot footage for your Insta. Just get those pics fast, so you can dig in while breakfast is still hot!