Orlando's Best Acai Bowls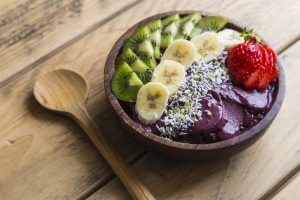 Even if you haven't tried acai bowls, you've likely seen pictures of them online or being made in your favorite juice bar or smoothie shop. Acai berries are reddish-purple fruits about an inch around that grow on acai palm trees found in Central and South American rainforests. This super fruit promotes a healthy heart, boosts energy, aids in digestion, and improves your immune system. It's no wonder this superfood is a favorite of many people.
Acai first became popular in the United States in the early 2000s when two brothers from Southern California named Ryan and Jeremy Black, and their friend Edmund Nichols began exporting it from Brazil. Since then, acai has made its way into all sorts of food and juice products found in stores and restaurants here in Orlando.
Whether you prefer acai bowls as a snack, for breakfast, or as a healthy dessert option, you can find them at these local spots:
Kingdom Acai
5628 International Dr. Orlando, FL 32819
Looking for a place that has unsweetened acai and that gives you an option to build your own acai bowls? Kingdom Acai is where you want to go.
Fruitiss Acai Café & Tapioca
5427 International Dr. Orlando, FL 32819
Fruitiss Acai Café & Tapioca is an excellent place for quick and healthy food, coffee, and Brazilian products.
Purple Ocean Superfood Bar
1620 N Orange Ave. Orlando, FL 32804
Made with all natural, raw, and organic ingredients, the acai bowls are what the Purple Ocean Superfood Bar is known for. Not only do they taste amazing, but the presentation of them is like no other.
Create Your Nature
1284 Orange Ave. Winter Park, FL 32789
Launched in 2016 by husband and wife Dan and Kim Dill, Create Your Nature has one of the biggest selections of signature acai bowls to choose from. Pick a 12 oz. size, or if you're really craving acai, opt for a 16 oz. instead.
Tru Nature juice Bar
10886 W Colonial Dr. Ocoee, FL 34761
The staff at Tru Nature juice Bar takes their time preparing each acai bowl so that it's fresh and delicious. There's excellent seating both inside and outside, and the location is dog-friendly too – a must if you have your pet with you on vacation.
All of these locations offer delicious acai bowls all over Central Florida. So, you should have no problem finding a place to stop in while you're on vacation.
Whether you're in Orlando to visit friends and family or here on vacation to check out of all the famous attractions, book your stay at the Rosen Inn International. Make reservations today by calling 407-992-1754. Our convenient location makes it easy to visit several acai spots to determine which one is your favorite.