Terrifying Details of Universal Orlando's Halloween Horror Nights 32
Returning again to celebrate its 32nd year of chills and thrills, Halloween Horror Nights is lurking just around the corner. Given the impressive houses we've seen in previous years, we're expecting Orlando's premier Halloween event to be nothing short of terrifying.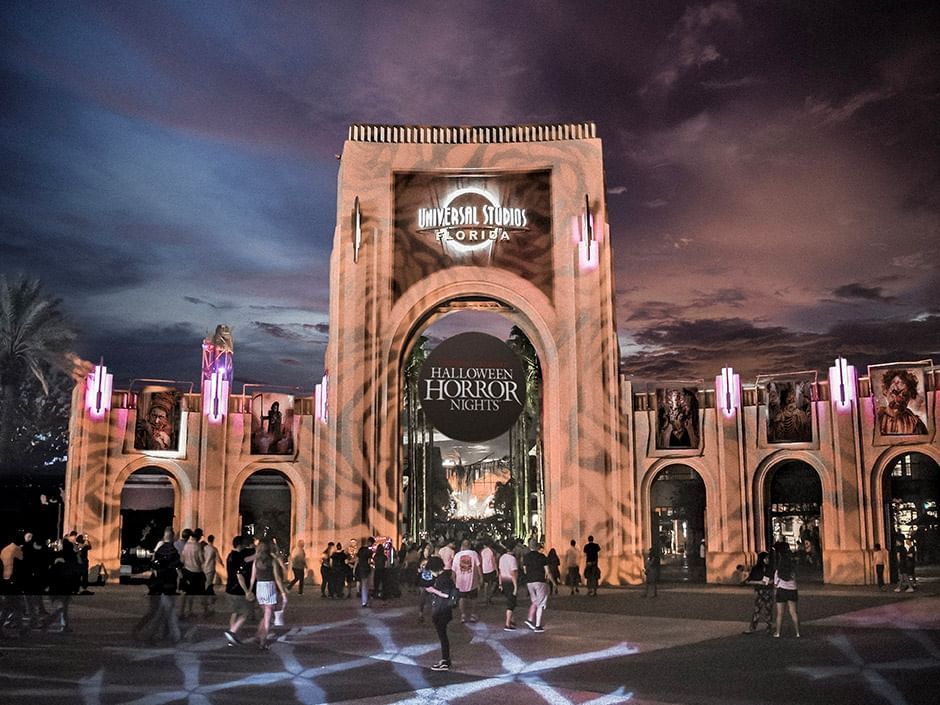 Halloween Horror Nights is a separately ticketed, after-hours event.
This year, it will run from Friday, September 1, through Saturday, November 4, for a record-breaking 48 nights. Each evening will feature ten haunted houses, five scare zones, live entertainment, and enough food to satiate the monster under your bed.
HHN32 Haunted Houses
Universal Studios Florida has a long-running reputation for bringing popular horror franchises right into our backyards each year. Although all haunted houses have now been announced, the first three reveals were more than enough to get people excited.
Back in October 2022, the Universal Creative team announced via Twitter that Chucky doll will be making his return to Orlando for HHN32. It was the earliest house reveal in Horror Nights history. However, speculation started even earlier than that with official merchandise of 'The Lakeshore Strangler' being sold at Halloween Horror Nights 31.
Chucky's debut with Universal Studios Florida dates all the way back to the first event in 1991. In the "Dungeon of Terror" haunted house, he antagonized guests alongside other famous blockbuster monsters. This year's house, fittingly titled "Chucky," is based off the USA/Syfy television show of the same name. The event will also see the return of Rip Ride Rockit's secret audio track that features Chucky's maniacal laugh, making for a killer ride experience.
Following the Chucky announcement, Universal Creative then went radio silent on any Halloween Horror Nights news for months. It was not until June 15 of this year that Universal Orlando Resort in partnership with Sony Entertainment's subsidiary 'Naughty Dog' announced that the extremely popular gaming IP 'The Last of Us' was confirmed for the second house reveal.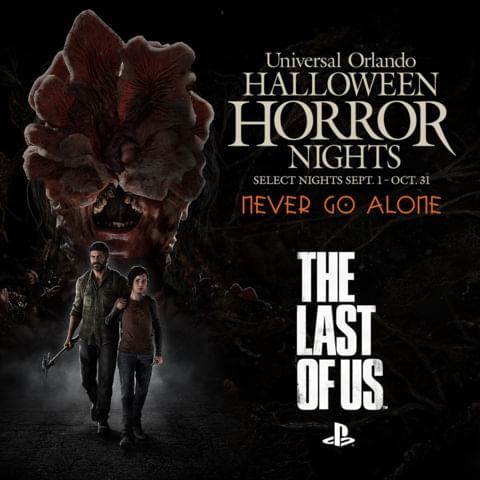 The Last of Us is a critically acclaimed, third person horror/survival video game that takes place in a post-apocalyptic 2023. In this alternate timeline, a parasitic fungus has overtaken society. This pandemic turns its hosts into violent, undead creatures. The game follows Joel, a smuggler who is tasked with escorting an infected teenage girl, Ellie, across the country.
This will most likely be a headliner house due to the gaming franchise's popularity.
The most anticipated house reveal, announced on July 13, is the heavily rumored 'Stranger Things'. Making its junior appearance at Halloween Horror Nights, this immersive retelling of the story of Hawkins, Indiana will be sure to fright and delight fans of the show. We hope you have your favorite song readily available, because you'll be coming face-to-face with Vecna's curse in this haunted house.
Needless to say, we'll be 'Running Up That Hill' and straight towards the park gates on opening day.
Since then, Universal Orlando Resort has now officially announced every house for the 2023 HHN season. You can view the full line-up on their official website.
Halloween Horror Nights 32: Scare Zones and Live Entertainment
In past years, guests have encountered scarecrow villains, pumpkin lords, and the walking dead alike throughout the streets of Universal Studios. As of this writing, Universal has yet to confirm any of the scare zones you'll see at HHN32.
However, as soon as the information is made available to us, we'll be sure to update you here.
In the meantime, here are a few scare zones that made last year's lineup:
Sweet Revenge
This scare zone depicted a Halloween carnival that went horribly wrong after the evil Major Sweets Candy Corporation fed poisonous candy to the local children, turning them into murderous mischiefs.
Horrors of Halloween
Ghouls and witches took over the streets of Production Central as the aforementioned "Pumpkin Lord" greeted guests on the first step of their terrifying path through the park.
Graveyard: Deadly Unrest
One fateful All Hallow's Eve night, a mystical storm brewed upon a graveyard, awakening the once deceased. The now living-dead walked the streets of Hollywood, seeking out souls of unsuspecting victims.
These scare zones are not for the faint of heart. So, if you're planning on going this year, bringing a friend may be in your best interest.
Straight to the Screams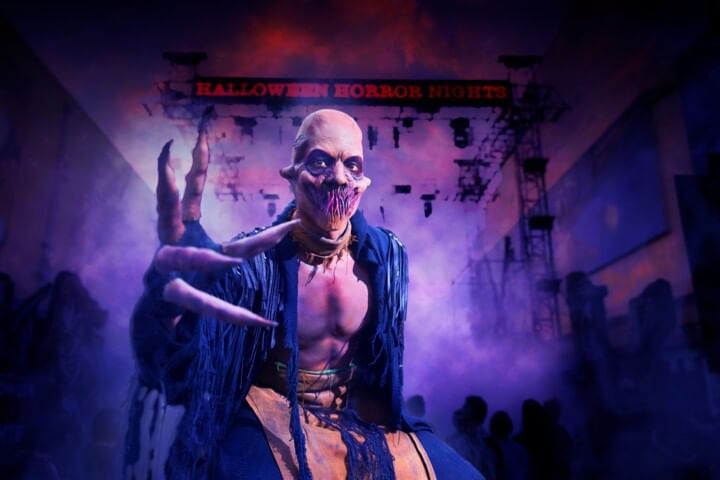 Considering the popularity and density of the event, one standard night of fright is usually not enough to experience everything. Universal Studios not only offers multi-night tickets, but also upgrade packages.
For instance, the four-hour R.I.P. tours grant guests instant access to each of the haunted houses. They also enjoy reserved seating for live shows, valet parking, and unlimited express passes to the park's rides and attractions.
You can purchase a group R.I.P. tour, which will typically cost an additional $279.99 to$399.99 per person. Or, you can pay for a completely private R.I.P. tour experience for roughly $1,800.
If the R.I.P. tour isn't your speed but you still want to skip the tricks and get right to the treats, we suggest bypassing the line by purchasing an express pass.
Here is the complete list of dates and base pricing for the 2023 season:
$109.99 – September 6, 13, 20
$119.99 – September 7, 21, 27, 28
$129.99 – September 8, 10, 17
$139.99 – September 14, 15, 24 and October 4
$149.99 – September 2, 3, 9, 22, 29 and October 5, 11, 18, 25, 31
$159.99 – September 16 and October 1, 12, 19, 26
$169.99 – October 6
$179.99 – September 23 and October 8, 15, 22, 27
$189.99 – September 30 and October 13, 20
$199.99 – October 7, 28, 29
$219.99 – October 14, 21
Our final recommendation is to "Stay and Scream."
This option is given to anyone with daytime admission to Universal Studios Florida in addition to a Halloween Horror Nights pass. You will be barricaded in a certain holding area after the park closes and get early access into the houses. Knocking out a few houses before the event starts is very doable.
This is a great option for those who want to see everything in one or two nights but don't want to splurge on an express pass.
Seek Refuge at Rosen Inn
Regardless of how you choose to experience Halloween Horror Nights, you'll need a break after a full night of scares. Wind down at Rosen Inn on International Dr., our Universal partner hotel with relaxing rooms and great amenities.
Rosen Inn offers affordability, comfort, and convenience to anyone looking to stay within two miles of Universal Orlando Resort.
Here is a sneak-preview at HHN32:
<blockquote class="instagram-media" data-instgrm-captioned data-instgrm-permalink="https://www.instagram.com/reel/CwnrorMvQVq/?utm_source=ig_embed&amp;utm_campaign=loading" data-instgrm-version="14" style=" background:#FFF; border:0; border-radius:3px; box-shadow:0 0 1px 0 rgba(0,0,0,0.5),0 1px 10px 0 rgba(0,0,0,0.15); margin: 1px; max-width:540px; min-width:326px; padding:0; width:99.375%; width:-webkit-calc(100% - 2px); width:calc(100% - 2px);"><div style="padding:16px;"> <a href="https://www.instagram.com/reel/CwnrorMvQVq/?utm_source=ig_embed&amp;utm_campaign=loading" style=" background:#FFFFFF; line-height:0; padding:0 0; text-align:center; text-decoration:none; width:100%;" target="_blank"> <div style=" display: flex; flex-direction: row; align-items: center;"> <div style="background-color: #F4F4F4; border-radius: 50%; flex-grow: 0; height: 40px; margin-right: 14px; width: 40px;"></div> <div style="display: flex; flex-direction: column; flex-grow: 1; justify-content: center;"> <div style=" background-color: #F4F4F4; border-radius: 4px; flex-grow: 0; height: 14px; margin-bottom: 6px; width: 100px;"></div> <div style=" background-color: #F4F4F4; border-radius: 4px; flex-grow: 0; height: 14px; width: 60px;"></div></div></div><div style="padding: 19% 0;"></div> <div style="display:block; height:50px; margin:0 auto 12px; width:50px;"><svg width="50px" height="50px" viewBox="0 0 60 60" version="1.1" xmlns="https://www.w3.org/2000/svg" xmlns:xlink="https://www.w3.org/1999/xlink"><g stroke="none" stroke-width="1" fill="none" fill-rule="evenodd"><g transform="translate(-511.000000, -20.000000)" fill="#000000"><g><path d="M556.869,30.41 C554.814,30.41 553.148,32.076 553.148,34.131 C553.148,36.186 554.814,37.852 556.869,37.852 C558.924,37.852 560.59,36.186 560.59,34.131 C560.59,32.076 558.924,30.41 556.869,30.41 M541,60.657 C535.114,60.657 530.342,55.887 530.342,50 C530.342,44.114 535.114,39.342 541,39.342 C546.887,39.342 551.658,44.114 551.658,50 C551.658,55.887 546.887,60.657 541,60.657 M541,33.886 C532.1,33.886 524.886,41.1 524.886,50 C524.886,58.899 532.1,66.113 541,66.113 C549.9,66.113 557.115,58.899 557.115,50 C557.115,41.1 549.9,33.886 541,33.886 M565.378,62.101 C565.244,65.022 564.756,66.606 564.346,67.663 C563.803,69.06 563.154,70.057 562.106,71.106 C561.058,72.155 560.06,72.803 558.662,73.347 C557.607,73.757 556.021,74.244 553.102,74.378 C549.944,74.521 548.997,74.552 541,74.552 C533.003,74.552 532.056,74.521 528.898,74.378 C525.979,74.244 524.393,73.757 523.338,73.347 C521.94,72.803 520.942,72.155 519.894,71.106 C518.846,70.057 518.197,69.06 517.654,67.663 C517.244,66.606 516.755,65.022 516.623,62.101 C516.479,58.943 516.448,57.996 516.448,50 C516.448,42.003 516.479,41.056 516.623,37.899 C516.755,34.978 517.244,33.391 517.654,32.338 C518.197,30.938 518.846,29.942 519.894,28.894 C520.942,27.846 521.94,27.196 523.338,26.654 C524.393,26.244 525.979,25.756 528.898,25.623 C532.057,25.479 533.004,25.448 541,25.448 C548.997,25.448 549.943,25.479 553.102,25.623 C556.021,25.756 557.607,26.244 558.662,26.654 C560.06,27.196 561.058,27.846 562.106,28.894 C563.154,29.942 563.803,30.938 564.346,32.338 C564.756,33.391 565.244,34.978 565.378,37.899 C565.522,41.056 565.552,42.003 565.552,50 C565.552,57.996 565.522,58.943 565.378,62.101 M570.82,37.631 C570.674,34.438 570.167,32.258 569.425,30.349 C568.659,28.377 567.633,26.702 565.965,25.035 C564.297,23.368 562.623,22.342 560.652,21.575 C558.743,20.834 556.562,20.326 553.369,20.18 C550.169,20.033 549.148,20 541,20 C532.853,20 531.831,20.033 528.631,20.18 C525.438,20.326 523.257,20.834 521.349,21.575 C519.376,22.342 517.703,23.368 516.035,25.035 C514.368,26.702 513.342,28.377 512.574,30.349 C511.834,32.258 511.326,34.438 511.181,37.631 C511.035,40.831 511,41.851 511,50 C511,58.147 511.035,59.17 511.181,62.369 C511.326,65.562 511.834,67.743 512.574,69.651 C513.342,71.625 514.368,73.296 516.035,74.965 C517.703,76.634 519.376,77.658 521.349,78.425 C523.257,79.167 525.438,79.673 528.631,79.82 C531.831,79.965 532.853,80.001 541,80.001 C549.148,80.001 550.169,79.965 553.369,79.82 C556.562,79.673 558.743,79.167 560.652,78.425 C562.623,77.658 564.297,76.634 565.965,74.965 C567.633,73.296 568.659,71.625 569.425,69.651 C570.167,67.743 570.674,65.562 570.82,62.369 C570.966,59.17 571,58.147 571,50 C571,41.851 570.966,40.831 570.82,37.631"></path></g></g></g></svg></div><div style="padding-top: 8px;"> <div style=" color:#3897f0; font-family:Arial,sans-serif; font-size:14px; font-style:normal; font-weight:550; line-height:18px;">View this post on Instagram</div></div><div style="padding: 12.5% 0;"></div> <div style="display: flex; flex-direction: row; margin-bottom: 14px; align-items: center;"><div> <div style="background-color: #F4F4F4; border-radius: 50%; height: 12.5px; width: 12.5px; transform: translateX(0px) translateY(7px);"></div> <div style="background-color: #F4F4F4; height: 12.5px; transform: rotate(-45deg) translateX(3px) translateY(1px); width: 12.5px; flex-grow: 0; margin-right: 14px; margin-left: 2px;"></div> <div style="background-color: #F4F4F4; border-radius: 50%; height: 12.5px; width: 12.5px; transform: translateX(9px) translateY(-18px);"></div></div><div style="margin-left: 8px;"> <div style=" background-color: #F4F4F4; border-radius: 50%; flex-grow: 0; height: 20px; width: 20px;"></div> <div style=" width: 0; height: 0; border-top: 2px solid transparent; border-left: 6px solid #f4f4f4; border-bottom: 2px solid transparent; transform: translateX(16px) translateY(-4px) rotate(30deg)"></div></div><div style="margin-left: auto;"> <div style=" width: 0px; border-top: 8px solid #F4F4F4; border-right: 8px solid transparent; transform: translateY(16px);"></div> <div style=" background-color: #F4F4F4; flex-grow: 0; height: 12px; width: 16px; transform: translateY(-4px);"></div> <div style=" width: 0; height: 0; border-top: 8px solid #F4F4F4; border-left: 8px solid transparent; transform: translateY(-4px) translateX(8px);"></div></div></div> <div style="display: flex; flex-direction: column; flex-grow: 1; justify-content: center; margin-bottom: 24px;"> <div style=" background-color: #F4F4F4; border-radius: 4px; flex-grow: 0; height: 14px; margin-bottom: 6px; width: 224px;"></div> <div style=" background-color: #F4F4F4; border-radius: 4px; flex-grow: 0; height: 14px; width: 144px;"></div></div></a><p style=" color:#c9c8cd; font-family:Arial,sans-serif; font-size:14px; line-height:17px; margin-bottom:0; margin-top:8px; overflow:hidden; padding:8px 0 7px; text-align:center; text-overflow:ellipsis; white-space:nowrap;"><a href="https://www.instagram.com/reel/CwnrorMvQVq/?utm_source=ig_embed&amp;utm_campaign=loading" style=" color:#c9c8cd; font-family:Arial,sans-serif; font-size:14px; font-style:normal; font-weight:normal; line-height:17px; text-decoration:none;" target="_blank">A post shared by Rosen Hotels &amp; Resorts (@rosenhotels)</a></p></div></blockquote> <script async src="//www.instagram.com/embed.js"></script>