An Orlando Plant-Based Dining Guide: 10 Must-Try Dishes
Did you know that October is Vegetarian Awareness Month?
The month is dedicated to celebrating the environmental and health benefits of a plant-based diet. The celebration is not just for vegans and vegetarians. Many meat-eaters use October as a chance to try plant-based foods they may not normally eat.
If you'll be in Orlando this October and want to join in, you'll find plenty of plant-based options.
In fact, in 2021, WalletHub named Orlando the second-best U.S. city for vegans and vegetarians. The City Beautiful scored especially well on the diversity, accessibility, and quality of our plant-based options. And it's true — you can get tasty veggie versions of any cuisine here.
During your next Orlando vacation, try one (or all) of these 10 plant-based meals and snacks.
1. Crispy Chik Cutlets at Winter Park Biscuit Company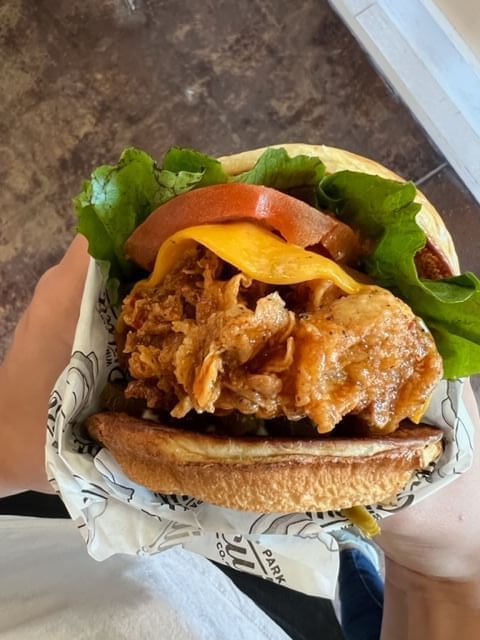 Plant-based diners and meat eaters alike flock to Winter Park Biscuit Company for their unique takes on Southern favorites.
The eatery, located in Orlando's East End Market, often has a line wrapping around the block. But the crispy chik cutlets are worth the wait. Winter Park Biscuit Co. dips the cutlets in an eggless wash, breads them, then fries them to perfection. Enjoy yours on a brioche bun, oat buttermilk biscuit, or sub roll.
2. Sheep's Pie at Ethos Vegan Kitchen
Ethos Vegan Kitchen has been a cornerstone of Orlando's vegetarian scene for 15 years.
Orlando Weekly readers have voted the Winter Park Restaurant into the Best of Orlando List every year since 2008. It's topped categories like "best vegetarian restaurant" and "best vegan restaurant." Ethos specializes in freshly made comfort food, including a sheep's pie that will even give meat-lovers a warm, fuzzy feeling. This casserole consists of gravy-smothered veggies topped with creamy mashed potatoes.
For a few more dollars, you can add seitan or vegan chicken.
Some wines and beers use animal products in the finishing process, but you can sip assured at Ethos. The restaurant's owners have verified that their bar menu is vegan friendly.
3. Vegan Burnt Ends at 4 Rivers Smokehouse
Vegetarians are used to cobbling together a bunch of sides when dining at a barbecue restaurant.
And a plate full of macaroni and cheese and Brussels sprouts can really hit the spot. But if you've found yourself sneaking sniffs of your tablemates' brisket, a trip to 4 Rivers Smokehouse is in order. The family-owned barbecue chain has locations all over Orlando, including spots in Winter Garden and Kissimmee.
Thanks to their vegan burnt ends, 4 Rivers has become an unlikely hotspot for plant-based diners.
The restaurant double-smokes its plant-based meat and roasts it in vegan barbecue sauce. Try the burnt ends in a sandwich or combine with three sides for a platter. The french fries and okra are vegan. If you eat eggs and dairy, you can also enjoy vegetarian menu items like macaroni, cheesy grits, cornbread, and coleslaw.
4. Treehugger Pizza at Lazy Moon
If a pizza slice sounds nice, head to Lazy Moon, a pizzeria with locations in Mills 50 and East Orlando.
This isn't your average pizza place. First, the slices are massive — like, bigger than your head. You can order whole pies, but a single slice is plenty for most diners. Second, Lazy Moon offers a cornucopia of vegan options, including tempeh, Daiya mozzarella, and all your favorite veggies.
The Treehugger pizza comes with vegan cheese and your choice of two toppings. If you eat dairy, you can also enjoy the Boxcar Willy deal. It comes with a standard slice plus a pint of veg-friendly Pabst Blue Ribbon.
5. Vegetarian Plate at Black Bean Deli
Like Ethos Vegan Kitchen, Black Bean Deli is a favorite among Orlando Weekly readers.
The Cuban restaurant was voted Orlando's best Caribbean restaurant in 2021. While most of Black Bean Deli's menu contains meat, the Vegetarian Plate is a must-try. It includes sweet plantains, savory black beans, rice, and freshly made salad. The restaurant also serves delectable vegan empanadas.
Black Bean Deli has Mills 50 and Winter Park locations.
6. Dole Whip at Walt Disney World Resort
The Dole Whip at Disney is a dairy-free dream come true.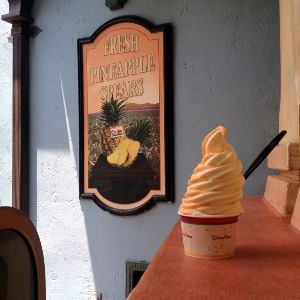 nefasth, CC BY-SA 2.0, via Flickr
While the vanilla version of the iconic theme park treat contains milk, any of the fruit flavors (including the original pineapple variety) are vegan friendly. The best-known spot to get Dole Whip in Walt Disney World is Aloha Isle, a snack stand in Adventureland that has served the tropical soft serve since 1984.
Guests 21 and over can also head to Animal Kingdom to enjoy their Dole Whip with a rum float — luckily, most rums are vegan.
7. Cincinnati Dawg at Vegan Hot Dog Cart
The Vegan Hot Dog Cart has satisfied late-night cravings since 1997.
As the name suggests, this downtown Orlando fixture serves meat-free franks with your fave fixings. But contrary to what the name suggests, as of 2022, Vegan Hot Dog Cart operates as a brick-and-mortar eatery. Catch them any night of the week in Sly Fox Pub.
Build your own hot dog with toppings like horseradish sauce, pickles, onions, or even tater tots. Or indulge in a Cincinnati Dawg, topped with vegan chili, cheese sauce, scallions, and jalapeños.
8. Loving Hut Rolls
Summer rolls are a refreshing take on traditional Vietnamese spring rolls, served cold and loaded with crisp veggies.
While they traditionally contain meat or seafood, plant-based restaurant Loving Hut serves three veggie summer roll varieties. Try their protein-packed Loving Hut Rolls, which feature tofu, vegan shrimp, and vegan ham, plus fresh herbs and vegetables. They're perfect if you're looking for a healthy snack or while you're waiting for one of Loving Hut's authentic Vietnamese entrees.
Loving Hut's Orlando location is in Mills 50.
9. OG Crunchwrap at Leguminati
Leguminati is nacho average Tex-Mex spot.
You'll find Leguminati in Hourglass Social House, a food hall south of downtown Orlando. The popular plant-based restaurant specializes in vegan crunchwraps. First-time diners should start with the OG Crunch, which features veganized beef crumbles, sour cream, and queso.
Enjoy your crunchwrap inside while taking in the food hall's rustic décor, or head out to the large patio to soak up some sun.
10. Tofu Entrée at Shōgun Japanese Steakhouse
Explore the flavors of Japan at Shōgun Japanese Steakhouse, an award-winning restaurant in Rosen Inn.
Have a seat at one of this Orlando restaurant's teppan grills and watch as a skilled chef prepares your meal in front of you. For vegetarian guests, Shōgun serves up a terrific teppanyaki tofu dish, served sizzling, with sides of veggies, rice, soup, and salad.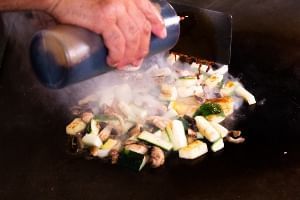 For a perfect plant-based sake pairing, order the Snow Maiden or Blossom of Peace. Both are brewed by Tozai, whose entire sake line is vegan.
Veg Out at Rosen Inn International
After feasting on Orlando's best plant-based dishes, head back to Rosen Inn International.
Our centrally located hotel is minutes from many of these restaurants. Our guestrooms feature minifridges and microwaves, making it easy to enjoy your leftovers throughout your Orlando vacation.