Steinmetz Hall is an Architectural Marvel 
When discussing cities that house world-renowned music halls, perhaps Orlando wouldn't be the first one that comes to your mind. However, in early 2022, Orlando's credibility started to crescendo with the opening of Steinmetz Hall, the third installment at the Dr. Phillips Center for the Performing Arts.
Known for its N1 sound-rating achievement and state-of-the-art architectural design, Steinmetz Hall not only has gone down as one of the best acoustical buildings in the world but has gracefully landed itself on Architectural Digest's list of 11 Most Beautiful Theatres in the World. Steinmetz Hall now shares the spotlight with other iconic theatres like Australia's Sydney Opera House and the Opéra Garnier in Paris.
Mind-blowing Engineering
Beyond being architecturally beautiful, this avant-garde space is also sparking conversation due to its multi-functional engineering. The engineers specifically designed this transformative theatre to accommodate all sorts of events like ballets, banquets, and orchestras.
To get a better understanding of the versatility of the hall, we talked to DW Phineas Perkins, Director of Production for the Dr. Phillips Center. His extensive background in both the arts and engineering made him the perfect candidate to walk us through the logistics of this multipurpose space. 
The theatre can transform from proscenium, to banquet, to concert hall in a matter of a few hours.
"The cassette," as Phineas refers to it, "is a shell that sits up stage in proscenium mode and weighs just under a million pounds… that will then roll down stage on a track to turn the space into a concert hall."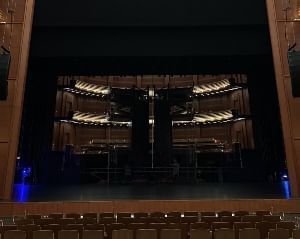 Modifications continue with 22 rows of orchestral seating being lifted, rotated, and stored beneath the floor to create space for banquet-like events. Phineas finds watching the transformation process "therapeutic," joking that "there should be a symphony written for it." We couldn't agree more!
Steinmetz Hall is Acoustically Perfect
As previously mentioned, Steinmetz Hall received a professional N1 sound-rating, meaning the volume of sound in the room is lower than 20 decibels (the lowest level at which humans can detect sound).
"So, when you're in this room," Phineas explains, "you can hear your own heartbeat if we're in concert configuration."
This is achieved by the meticulous design of the building from the fan-less, completely silent light fixtures on the ceiling above you, to the custom made, sound-absorbing chairs you're seated in. Everything comes together, much like an orchestra, to create near perfect acoustics and stun concertgoers. 
Have a Harmonious Stay at Rosen Inn International
Steinmetz Hall, intended to be the new home of the Orlando Philharmonic, Orlando Ballet, and Opera Orlando, has already seen renowned performers like Jennifer Hudson blow audiences away. The Dr. Phillips Center for the Performing Arts is becoming a trademark here in Orlando, with a show at Steinmetz Hall being a must-see.
The arts and humanities culture in Orlando is ever-flourishing, drawing in an influx of talented individuals from all over the world. Amidst such a vibrant community, it was only fitting to have a place that truly epitomizes our unwavering love for the performing arts.
If you're in town to see a show, make Rosen Inn International your choice hotel destination. With comfortable accommodations and proximity to things like the Dr. Phillips Center, you'll be begging for an encore at the end of your stay!