3 Points for Packing for Florida's Summer Weather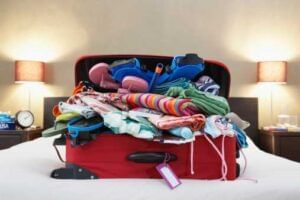 The notoriously extreme heat and regular afternoon thunderstorms of Florida summers make it tricky to plan and pack for a trip to the Sunshine State. While there are many things to consider when packing for a trip to Florida, the most important thing is to make sure you pack lightweight clothes that will be comfortable and cool. Here are some trip essentials to pack and tips to help you manage Florida's summer weather.
1. Consider the Weather During Your Florida Summer Trip
In the month of June, the average temperatures in the state of Florida can include lows between 75 and 80 degrees and highs into the upper 90s. When thinking about the temperature, humidity is an important factor to consider. In Florida, the humidity factor during the summer can get up to 80%, making it feel even hotter. Because of the heat, Florida summers are also prone to afternoon rain showers and thunderstorms, so you should pack for wet weather, as well.
2. Consider Packing These 8 Florida Trip Essentials
Whether you are visiting a Central Florida beach or one of Orlando's famous theme parks, here are some essential summer weather items that you should definitely pack for your next trip to Florida.
Sunscreen
Sunglasses
Hat
Flip-flops or sandals
Comfortable walking shoes
Dry-fit or other lightweight clothing
An umbrella, poncho, or rain jacket
Extra socks
BONUS: You might also want to consider throwing a light sweater or cardigan into your bag before you head out as the temperatures do cool off in the evening and some indoor spaces might have the air conditioning blasting.
3. Consider Florida's Severe Weather
If you take a vacation to Florida during the summer, you will more than likely experience a thunder or lightning storm at some point during your visit. In fact, Lightning Safety Awareness Week is annually held the last week of June to remind the public to be careful and act responsibly when severe weather is approaching. In 2021, Lightning Safety Awareness Week runs from June 20–26.
Here are a few things you can do if a thunderstorm rolls in:
Plan your day to avoid any forecasted storms.
Go inside if you hear thunder. No matter how far away the storm may seem, if you can hear thunder, you are not safe from lightning.
If you're safely inside during a severe storm, make sure to stay away from corded telephones, plumbing, electrical appliances, and windows.
Of course, the weather in Florida is predominately gorgeous. After all, Florida is nicknamed the Sunshine State for a reason. However, the weather is always unpredictable, so it's best to always be prepared and packed for any weather condition.
Beat the Heat at Rosen Inn International
After a full day of enjoying the beautiful Florida weather, head back to the Rosen Inn International for an affordable and luxurious stay that is conveniently located close to everything Orlando has to offer. While at our comfortable hotel, you can rest easy knowing we are totally committed to the health of our guests and associates.
To ensure your safety, we have installed clear protective barriers at our front desk, hand sanitizer dispensers throughout the hotel, and social distancing markers on the floor. We have increased the frequency of all touchpoint and common area cleanings and are using EPA-approved, hospital-grade disinfectants in all guestrooms. For more information, you can read the details on our Total Commitment Page.
If you're ready to book your Central Florida summer vacation, call us today at 407-996-1600, or click "Check Room Availability" at the top of the page.