5 Easy Ways to Find Cheap Flights to Orlando
As any seasoned traveler knows, plane tickets can quickly eat into even the most carefully planned vacation budgets. And, unfortunately, airfares are expected to rise throughout spring 2023. But don't change your plans just yet!
With a little research and planning, it's easy to find cheap flights to Orlando.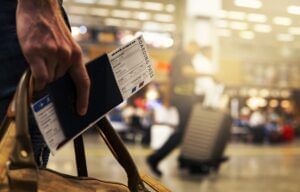 Use these five tips to save on your next flight to the City Beautiful.
1. Know your priorities.
Everyone loves a good deal. But sometimes cheap flights are cheap for a reason.
Before you start looking for airfares, think about what you're willing to give up in the name of a discount, as well as your travel dealbreakers. A few things to consider are:
Is it important that you sit with your friends and family?
Are you willing to drive further for a cheap flight at from a more distant airport?
Do you usually pack light for trips?
How much legroom do you need?
What do you think about layovers?
Can you take PTO at any time of year? Are you comfortable taking your kids on vacation during the school year?
By thinking realistically about your travel preferences at the start, you're less likely to be seduced by a cheap flight that's not ideal for you or your travel mates.
2. Choose when you book your flights — and when you fly — wisely.
You may have heard that Tuesdays were the best day to find cheap flights. And while making your travel arrangements on Tuesday does offer modest savings, buying your tickets ahead of time can have an even bigger impact on your budget.
A 2021 study suggested that 1 to 3 months before your trip is the sweet spot for scoring the lowest rates on domestic flights.
International travelers should give themselves more time, from 4.5 months in advance for guests from Mexico to 10 months for those flying from Africa or Asia.
The day you fly out can also make a big difference. Saturday and Sunday are typically the most expensive days to travel. If your schedule allows, fly midweek instead. Also keep in mind that summer break and holiday weekends are among the most popular times to visit Orlando. Flights are more expensive during these times of year.
As a bonus, those visiting Orlando off-season are likely to enjoy mild weather and smaller crowds at the theme parks.
3. Compare your options thoroughly.
It may be tempting to scoop up the first cheapish flight you see. But unless seats are super limited, take some time to make sure you're really getting the best deal. Consider the following:
When booking tickets for a group, check if it's cheaper to purchase them in one transaction or one at a time.
Compare flight prices between individual airline websites and aggregators like Expedia and Kayak. Keep in mind that some airlines, like Southwest and budget carrier Allegiant, do not display fares on the aggregators.
Look at both direct flights and those with layovers. While booking websites will suggest connecting flights, check if it's cheaper to find your own connection than to go with the recommended route.
Keep the entire cost of plane travel in mind. While budget airlines like Frontier or JetBlue may offer lower rates, they tend to have higher baggage fees and even charge for carry-ons. Those traveling with a lot of luggage may fare better with a pricier Southwest flight since passengers can check two bags for free.
4. Check your points and perks.
So, you've found the perfect cheap flight. Before you whip out your wallet, take inventory of your payment options.
Do any of your credit cards have loyalty programs? You may have enough points to cover some or all of the airfare.
Some card companies also offer bonus cash back for flights. As long as you can pay off your balance quickly, booking your trip via credit card could help you rack up points for a future vacation or another big purchase.
Credit card companies aren't the only ones that offer travel savings to their customers. Many workplaces give their employees memberships to programs like Tickets at Work or Abenity, which may offer cheap flights. Mobile carrier loyalty programs like T-Mobile Tuesdays, AT&T Thanks, and My Sprint Awards sometimes offer discounted airfares, too.
5. Look into cheap flights at smaller airports.
Orlando International Airport (MCO) is the closest airport to most of the City Beautiful's theme parks and attractions.
But if you're planning on renting a car, and are willing to drive a little further, you may be able to find cheaper flights to Central Florida's smaller airports. Just be sure to factor in the cost of gas and tolls when comparing prices.
As you do your research, check for flights to:
Orlando Sanford International Airport
Orlando Sanford International Airport (SFB) is about 40 miles north of International Drive. Allegiant offers regular flights to SFB from cities across the East Coast, Midwest, and central Canada.
Before hitting the road for Orlando, enjoy an authentic German meal at Hollerbach's in downtown Sanford or go wild at the Central Florida Zoo.
Melbourne Orlando International Airport
Melbourne Orlando International Airport (MLB) offers flights from Charlotte and Atlanta via Delta and American Airlines. But the airport is also serviced by a number of budget airlines offering cheap flights. Allegiant flies into MLB from Pittsburgh and Nashville, while Sun Country has flights from Minneapolis. Visitors from Canada and the U.K. may also find cheap seasonal flights from cities like Toronto, Belfast, Manchester, and Edinburgh.
The drive from Melbourne to Orlando is about 70 miles. Before driving inland, take a stroll down Melbourne Beach or stop for a bite in the historic Eau Gallie Arts District.
Don't Forget Your Local Airports
Orlando isn't unique in having smaller airports on its outskirts.
When looking for cheap flights, also take inventory of all the airports close to your home. For example, discount carrier Breeze Airlines has flights from Akron and Santa Ana to MCO. These airports could be good options for visitors from Cleveland and LA, respectively.
Bonus Savings Tip: Stay at an Affordable Hotel
When it comes to traveling on a budget, finding a cheap flight is just the start. Stretch your vacation fund even further with a stay at Rosen Inn International.
Our affordable Orlando hotel provides top-tier amenities in the heart of Orlando. As our guest, you'll enjoy perks like free Wi-Fi, free parking, and a kids-eat-free program at our on-site breakfast buffet. Our free theme park shuttle lets you save money on pricy parking fees. And when you stay with Rosen Hotels & Resorts, you'll never pay a resort fee.