Discover Family-Friendly Fun at The Central Florida Kids & Family Expo
Beat summer boredom with a family trip to the Central Florida Kids & Family Expo.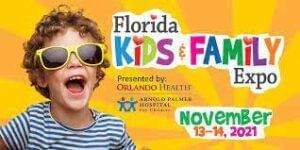 Held at the spacious Orange County Convention Center, the expo takes place Saturday, November 13 – Sunday, November 14 and connects families in Central Florida with entertainment for all ages. With over 150 pre-natal, baby, toddler, kid, teen and family exhibitors, the Central Florida Kids & Family Expo promises a weekend of air-conditioned, multi-generational fun. Here's just a taste of what to expect.
Hands-on Fun
Even though there are so many different exhibitors, they all have one thing in common – hands-on fun!
In addition to mechanical bulls, bumper cars, bounces houses, sports zones, and arts and crafts sections, guests are welcome to participate in Touch-a-Truck, check out a petting zoo and butterfly exhibit, play a game of dodgeball, and much more. Some vendors offer extra fun such as carnival rides, face painting, and pony rides for an additional charge, so keep some cash in your pocket in case you want to try these.
Unique Photo Opportunities
Star Wars and Ever After characters will be on hand to hang out in Central Florida for the expo.
Your kids will love meeting their favorite characters and posing for selfies with them. They'll also get the chance to meet and interact with a variety of farm animals and reptiles.
Live Performances
At the Central Florida Kids & Family Expo, you'll be treated to family-friendly performances, which are included in the price of your ticket.
Acts include dazzling acrobatic aerial artists, live demonstrations from HBC Wrestling's T-Bone Funk, and animal presentations from wildlife professionals.
Freebies
When you purchase a ticket, you're automatically registered for giveaways.
Prizes include family tickets to Kennedy Space Center, Busch Gardens, Disney on Ice, the Crayola Experience, and many more. You'll also enjoy plenty of free samples at the expo. And, yes, there will be food samples.
Event Hours and Prices
Hours for the Central Florida Kids & Family Expo run on Saturday 10 a.m. – 5 p.m. and Sunday 11 a.m. – 5 p.m.
The event was created by moms who are committed to keeping costs low and accessible to all families. Tickets at the door are $15 each but you can save by purchasing them in advance online for just $6. Youngsters under 2 receive free entry.
Enjoy an Affordable Stay in Orlando
Families traveling to Orlando will certainly want to stay in a family-friendly hotel.
The Rosen Inn International is just minutes from the Orange County Convention Center and features family fun amenities such as swimming pools, a playground, and an arcade. Our mini-market in the lobby is the perfect place to pick up some snacks before heading out to the Central Florida Kids & Family Expo.
At Rosen Inn International, we are dedicated to the highest standards of cleanliness and safety for the well-being of our guests and associates.
Our total commitment includes new hotel features such as clear protective borders between you and our front desk staff, more frequently cleaned common areas and touchpoints, additional hand sanitizer dispensers throughout the hotel, and the use of hospital-grade disinfectants in all guestrooms. Read all the details on our Rosen's Total Commitment page.
To book your room at Rosen Inn International, call 407-996-1600 today, or click "Check Room Availability" at the top of the page.