Sad Summer Festival at Orlando Amphitheater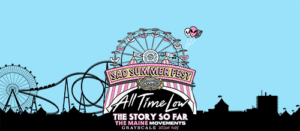 The fun never stops in Orlando, and this summer The City Beautiful will play host to an especially high-energy musical event that features the best of rock music and all its subgenres. If you are looking for new and lively music and entertainment experience, do not miss the Sad Summer Festival when it comes to Orlando Amphitheater at Central Florida Fairgrounds on Friday, August 20, 2021.
Featured Bands at Orlando's Sad Summer Festival 2021
Presented by Journeys, the Sad Summer Festival has gathered some of the greatest up-and-coming names in underground rock, from California to Australia, to form one of the most entertaining musical events around. From punk rock to alternative bands, here are the acts scheduled to perform on the Orlando leg of the Sad Summer Festival.
All Time Low


Beginning as a high school band in their hometown of Townson, Maryland, All Time Low has slowly climbed to the top of American pop-rock, punk, and alternative. Since their EP debut in 2004, the band has released eight albums that include singles like "Weightless" and "Monsters."


The Story So Far


Formed in 2007, the group has, little by little, found its own style within the pop-punk genre by mixing elements of hardcore punk and punk rock to create a unique sound. For those looking for a form of pop-punk that hits different, the California-based band will surprise with tracks like "Clairvoyant" and "Heavy Gloom."


Movements


California is a long way from Chicago, the birthplace of post-hardcore, but that never stopped Rancho Santa Margarita's Movements from creating some of the most enticing music in the genre. If you like the intensity of hardcore punk and the creativity of post-punk, you will love to hear them play hits like "Daylily" and "Deadly Dull" live.


The Maine


In their seven studio albums, The Maine has combined the best of pop-rock, punk, and alternative to forming songs like "English Girls" and "Into Your Arms." Their distinct take on the pop genre—previously known as neon pop-punk—has placed them high on the Billboard 200 twice: 90th with their third album and 39th with their fourth.


Grayscale


Those who prefer alternative and punk will want to hear the sound Grayscale is producing in tracks like "Painkiller Weather" and "Forever Yours." Known as the founders of the pop-punk scene in Philly, Grayscale will make it a night to remember.


Destroy Boys


This Sacramento-based band's sound is rightly represented by their name. Avid punk and hardcore listeners will especially enjoy performances of this attitude-infused group's hits like "Crybaby," "American River," and the extremely punk, "I Threw Glass at My Friend's Eyes and Now I'm on Probation."


Yours Truly


The only foreign band in the line-up is also the youngest group in the mix. But longevity does not affect this female-fronted Australian band's quality. Yours Truly's pop-punk hits like "High Hopes" and "I Can't Feel" will remain in your head for weeks after they leave the stage.
Book Your Orlando Vacation at Rosen Inn International
If the music scene is bringing you to Orlando this summer, book a room at Rosen Inn International, a Rosen Hotel & Resort. Our hotel offers clean, comfortable, and affordable rooms near all of Orlando's desired destinations. We are also dedicated to protecting the health of our guests and associates with the utmost standards of cleanliness.
Our total commitment to your safety includes new hotel features such as protective barriers at the front desk, hand sanitizing stations throughout the hotel, the use of hospital-grade disinfectants in all guestrooms, and more frequently cleaned common areas and touchpoints. Read the full details on our Rosen Total Commitment page.
To book a room today, call us at 407-996-1600 or click "Check Room Availability" at the top of the page.